Lighting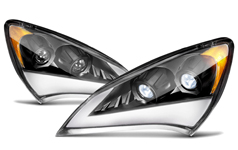 The car's lighting system consists of lighting and signalling devices mounted or integrated to the front, sides, rear, and in some cases the top of the motor vehicle. The purpose of this system is to provide illumination for the driver to operate the vehicle safely after dark, to increase the conspicuity of the vehicle, and to display information about the vehicle's presence, position, size, direction of travel, and driver's intentions regarding direction and speed of travel.
In the same time, besides functionality, elements of the lighting system gives the car personality and unmistakable look. The lightning range from ZEXT is a technological excellence, with leading components and advanced engineering employed throughout. The driving experience is equally impressive, fabulous handling with exhilarating performance, every journey is an adventure with lightning by ZEXT.
Lighting components from ZEXT are designed to secure your way. Use in the aftermarket like a recomanded replacement for original equipment. ZEXT provide the best solution for replacing old or demaged lighting components.
Within the group "lighting components", ZEXT assortment includes more than 2000 products and is continuously growing.
headlamps

fog lamps

сornering lamps

parking lamps

standing lamps

rear position lamps

reversing lamps

rear registration plate lamps

stop lamps

centre high mount stop lamps
Whatever type and model, each item by ZEXT corresponds exactly to the dimensions and design of OE. Equally important is the quality of materials that guarantee a long service life. With a powerful light for safety drive, ZEXT will realize your creative aspirations.